Your best chain value in North America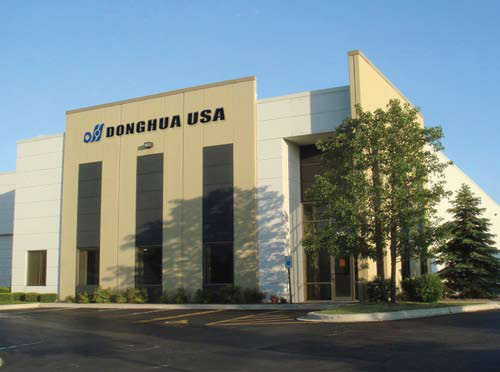 Key Facts
Established in 1991
3600+ employees
400+ engineers and specialists
Worldwide sales network
Chicago area headquarters
Five production sites
40,000+ tons finished chain annually
Tolerances within 0.5 DIN
ISO certified
Donghua USA, Inc. – Your best chain value in North America
We Know Chain
Donghua Chain Group is known across Europe and around the world as a primary source for value, quality, fast delivery, and extensive inventory. 
Now in North America, Donghua USA offers its customers the in-depth consulting, innovative engineering, and new product development assistance it is known for globally.   Whether your industry is involved in agriculture, construction, automobiles, food, mining, oil & gas, or materials handling, Donghua USA can meet your needs with the exact chain you need, when you need it.
Donghua Chain Group is one of China's largest and most respected chain manufacturers.  They began with a focus on roller and engineered class chain, and grew as their reputation for quality, value and dependability became known.  Now – in addition to a one million sq. ft. production facility in China – Donghua has manufacturing plants and sales centers in America, Germany, Holland, Poland, France, Italy, Hungary, Japan, and Thailand.
Although global in scope, Donghua has built a targeted network of highly qualified employees, based on the firm belief that local service is the best service.
The Industry's Value Leader
Donghua's global network includes some of the brightest engineers from around the world, creating unprecedented opportunities for developing and marketing advanced new products and technologies.  On-going research and development efforts allow Donghua USA  to continuously improve quality, enhance production processes, and add value. 
For example, by using a dedicated hardening facility and advanced proprietary surface treatment techniques, we can deliver roller chain in tolerances within 0.5 DIN accuracy in a wide range of materials and alloys.
 
In-Depth Customer Service
Donghua USA provides our customers with the full range of services including application engineering, customized designs, made-to-order chains, and in-field technical assistance. Our goal is to provide you with the highest quality products, timely delivery, world-class service, and the support you should expect from a global leader.
 
A Commitment to Excellence
The Donghua USA commitment is to excellence in all areas – quality, dependability and customer service. You can be confident that your chain has been tested for strength, composition, corrosion and wear, and that it will be the exact chain for your application.  You can be confident that your chain from Donghua USA is your best value.